Acupuncture provides many benefits for people suffering from all types of conditions, discomfort, and pain. Everyone should have the opportunity to find the perfect form of therapy to obtain relief. However, the idea of needles can often stop someone from considering acupuncture as a therapy. Laser therapy has grown in all medical fields, including acupuncture treatments. As a result, "Laserpuncture" was created and is continuously becoming more popular. Laserpuncture has evolved over time, allowing more people to experience the benefits of acupuncture. If you do not like needles or maybe even suffer from trypanophobia, Compassion Acupuncture has the perfect remedy for you; The LaserPen.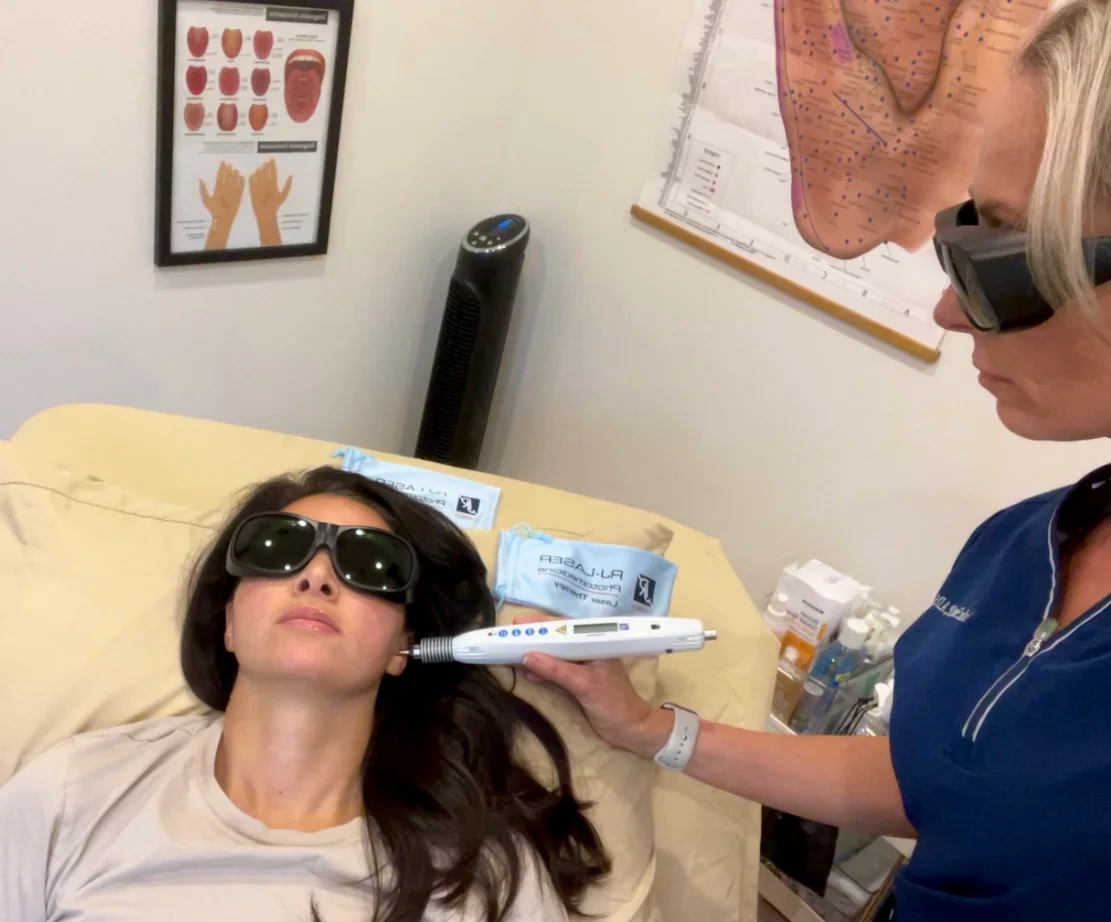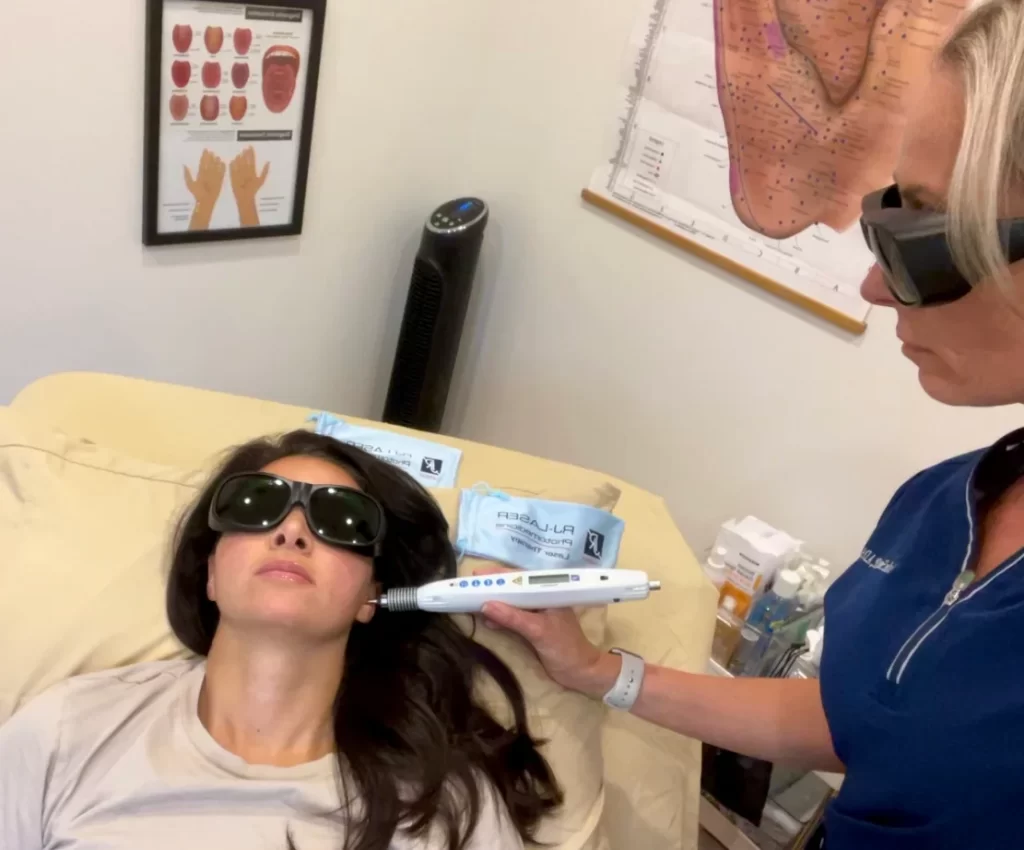 RJ-LASER
RJ-LASER is an innovative laser company that originated in Germany and has impacted the wellness world since 1982. RJ-LASER was the first company to produce a compact yet powerful pen-shaped device for medical use. About 10,000 physicians across the globe use their products. As their technology evolves, more physicians recognize the high-tech options they offer.
LaserPen by RJ-LASER
The LaserPen is a high-tech device bringing convenience and comfort to many people worldwide. The LaserPen can work on small and large points through pulse-controlled laser acupuncture stimulation. This RJ-LASER Therapy System allows our patients to experience Low-Level Laser Therapy (LLLT), which initiates a series of physiological reactions at the cellular level improving tissue repair and reducing pain and inflammation wherever the laser beam is applied.
Low-Level Laser Therapy (LLLT) "Laserpuncture"
Laser Therapy Acupuncture uses the principle of traditional acupuncture by stimulating a laser beam instead of a penetrating needle. The laser beam can produce low-heat light and is an electromagnetic wave, stimulating the acupuncture point of the human body without using needles. LLLT has been used for many years on sports injuries, arthritic joints, neuropathic pain syndromes, back and neck pain.
Just like acupuncture treatments with needles, Laserpuncture provides the same benefits! Benefits of Laserpuncture include…
Boost blood circulation & enhance performance
Increase muscle relationation
Reduces nerve pain, inflammation
Relieves muscle injury and joint pains
Accelerates wound healing and tissue rejuvenation
Over 200 randomized clinical trials have been published on LLLT, half of which are on pain, such as:
Neck & Back Pain
Shoulder, Elbow, & Hand Pain
Hip & Knee Pain
Ankle & Foot Pain
Muscle Pain & Tightness
Arthritis
Issues with Function & Flexibility
Pre & Post Operative Conditions
Fibromyalgia
Scar Tissue
Inflammation
Numbness & Tingling
Advantages of Laser Acupuncture Treatments
Laserpuncture sessions, such as treatments with the LaserPen System, include traditional acupuncture's excellent benefits. In fact, laserpunture has more beneficial components to offer! Advantages of Low-Level Laser Therapy include…
Short therapy duration (10-30 seconds/per point)
Points that are difficult or painful to treat with needles (mouth/mucosa, wounds, joints, oral) can be included.
Painless and non-invasive therapy (particularly suited to treating sensitive patients, patients with needle aversion, children, etc.).
Can be used in cases for which classical acupuncture does not recommend the use of needles (asthenia)
Aseptic- no risk of infections & no side effects
Can be used to complement traditional acupuncture treatment
Laserpuncture VS. Needle Acupuncture
Comparing different methods that give the same result will always raise the question of which is better. Both methods influence live tissue and the energetic system of meridians – the needle by the stimulus, which triggers a reaction in the body, and the Laser by light energy and photons. Both acupuncture methods trigger responses within the body's nervous system. Although both ways reach the same parts of the body's system, they have a slightly different effects on body functions because of their remarkable influence on live tissue (harmonizes, neutralizes, tonifies, and reduces). Needle acupuncture and Laserpuncture can also complement each other. Switching between the two methods can be good for the body. They are both able to be a helpful combination depending on the situation. Each technique can be used by itself but will never replace the different processes completely. A laserpuncture session might be a little shorter in duration than a traditional acupuncture session due to a simplified method of operation. At the end of the day, both methods are safe and will help reach your maximum comfort in the long run.
At Compassion Acupuncture, we believe that everyone deserves to find pain relief. Acupuncture has changed many people's lives, and everyone deserves to experience the outcomes acupuncture therapy provides. Witnessing the wonders of acupuncture treatments, Compassion Acupuncture wants to offer treatments for all situations. We are proud to constantly evolve and incorporate innovative techniques and tools in our practice. RJ-LASER's LaserPen System is now an offering in our practice. For more information on the LaserPen System or to make an appointment, call us at (954) 594-0843 or visit our website. https://www.compassionacupuncture.com/